ABOUT COMPANY
RK-Trans was created for services for the transport of persons, but also to meet the growing demand for parcel and correspondence. Our offer is addressed primarily to those who choose to travel to Germany, the Netherlands, Belgium and Denmark or back to the Poland, as well as companies and individuals who want to quickly and safely transport packages or other correspondence abroad and in prices lower than proposed regular mail.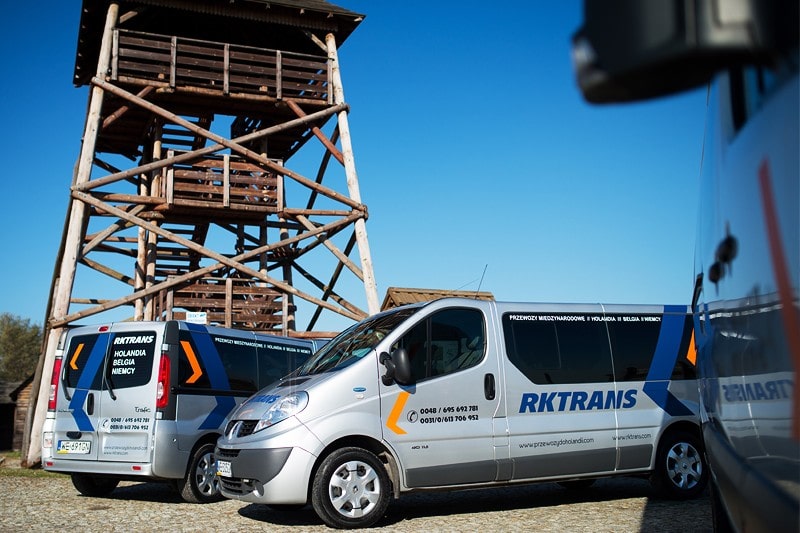 All our drivers are licensed to transport of passengers and parcels and vehicles have valid documents permitting them to travel and perform passenger transport services.
The specialty of RK-Trans is cheap transport to the Netherlands and Germany and back. Our passengers travel in a comfortable and safe environment. The mini buses to the Netherlands and Germany, Denmark and Belgium have air conditioning, television with DVD player and comfortable seats. Cheap mini busses to the Netherlands, Belgium and Germany run from address to address without changing throughout the week. We also offer passenger transport to Belgium and other countries every day for groups of more than 7 passengers. There is also the possibility to check the vehicle in which you will be traveling. All buses have a speed limiter to 130 km / h, and therefore passengers do not have to worry about their safety.
With our interactive map located on our website you can check from which and to which areas we travel, and also what the route of individual lines looks like, for example: the routs of our mini buses to Denmark or the connection between Netherlands and Poland.
Mini buses from Germany to Poland run on Wednesdays, Saturdays and Mondays, similarly like from other countries, and buses to Germany and other destinations leave on Tuesdays, Fridays and Sundays. Ticket reservations can be made though one of the three national hotlines or one Dutch hotline, and also online via live chat with our consultant by a booking form.
In our offer there is also transport of parcels to Germany, the Netherlands or Belgium. We transport both letters and transport larger goods, including bicycles, computers and electronic equipment. We guarantee safe transportation of the consignment to the address indicated at the price much lower than the offer of traditional mail. The exact rules for packing and securing the packages are found in the "Transport packages" section. Courier service reservation can be made via the hotline or via a web form or chat with a consultant.
RK-Trans is also involved in transport of parts for cars abroad or their transport to Poland.
We are also willing to work with individuals or companies operating abroad which will become our partners and will recommend our transport services to their customers.